The Spirit of Three Loves
Love your neighbour, love your country, love your work. Our guiding principles were formed in 1946 by our founder Kiyoshi Ichimura. They reflect how and why we do business and our commitment to wellbeing in our families, staff, customers and the world we live in.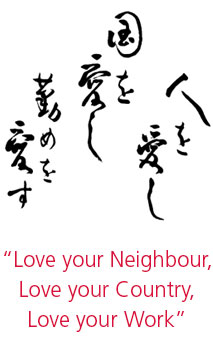 Mission & Vision

At Ricoh, we empower individuals to find Fulfillment through Work by understanding and transforming how people work so we can unleash their potential and creativity to realise a sustainable future.
CUSTOMER CENTRIC

Act from the customer's perspective

KIRITAKI

Ka tākina ngā mahi mai i te aronga o ngā kiritaki
PASSION

Approach everything positively and purposefully

KŌINGO

Kia ngākaupai, kia aronui te aro ki ngā mea katoa
GEMBA

Learn and improve from the facts

WHANAKE

Kia ako, kia whakawhanake mai i ngā meka
INNOVATION

Break with the status quo to create value without limits

AUAHA

Ka puta i te pouaka e hua mai ai te kounga mutunga kore
TEAMWORK

Respect all stakeholders and co-create value

MAHI TAHI

Ka whakaute i ngā kaihāpai katoa e puta kounga ai ngā mahi mā te mahi tahi
WINNING SPIRIT

Succeed by embracing challenges through courage and agility

WAIRUA TOA

Ka angitu mā te māia me te tere o te hiki i ngā wero
ETHICS AND INTEGRITY

Act with honesty and accountability

MATATIKA

Kia pono, kia tika te taki i ngā mahi