For the last 6 months we have been undertaking a massive transition in not only the way we work but also where we work. After 9 years in our Victoria Street office the time had come to find a space where we could build our 'Workplace for the Future'.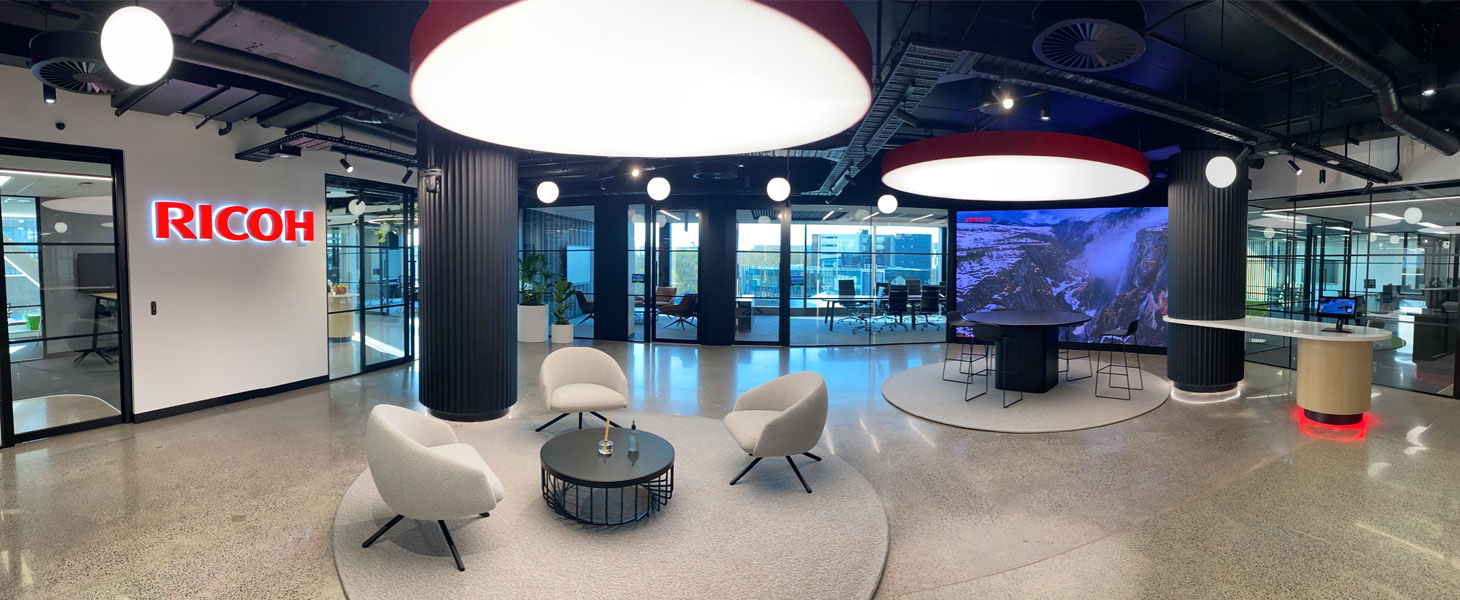 The new Ricoh Building at 34 Sale Street is a cutting-edge workspace designed around the principles of Hybrid work.
The move is driven by a commitment to adapt to the evolving needs of its workforce, improve collaboration and communication, and foster a more fulfilling workplace experience. With employees increasingly seeking flexibility in their work arrangements, we recognised the need to create an environment that provides 'digital dexterity' and seamlessly supports both remote and in-office work.
Hybrid working is a culture. A well-designed workspace can play a pivotal role in making this transition successful.
"Hybrid working is a culture. We wanted to create a space where our people feel not only productive and engaged but also safe and welcomed' said Mike Pollok, Managing Director of Ricoh New Zealand "A well-designed workspace can play a pivotal role in making this transition successful. It's about more than just providing the technology; it's about creating an atmosphere where employees feel connected, motivated, and inspired."
The underlying technology supporting the Hybrid culture is Ricoh Spaces, our own
workplace management platform
that unifies mission-critical hybrid tools such as desk booking, meeting room management, visitor management, building health, car park booking, workplace mapping and more under a single SaaS bases solution. Not only does this give staff great experience but its inbuilt analytics platform also delivers great insight into how the building and spaces are being used so future decisions on the workspaces can be made from real data.
"This is, without a doubt, one of the most technologically advanced buildings in New Zealand for supporting hybrid working." continued Mike. "Not only will it serve as a great place for our staff to be but also a great demonstration of the technology that we deliver. It's a live showcase for businesses to come and see what the true modern workplace can look like" added Mike.
A Hybrid Workplace Built on Insight, Data and Best Practice
Staff were engaged early in the process, using our internal innovation platform, ThinkTWICE, to capture and evaluate ideas from all staff to understand how they wanted to work and what aspects of Hybrid were most important to them. By engaging early with the staff there was a clear understanding of the areas that would have the most impact on the day-to-day working and create a productive environment.
Ricoh had also been capturing data in the old Victoria Street building to measure occupancy and use of space to capture trends across the workspaces.

"We had seen a change in the use of the old building from a place to be and just work, to a place where people come to collaborate.' Said Brett Clark, GM of Hybrid Workplace for Ricoh New Zealand. "With that in mind over 50% of the space in the new building is turned over to shared spaces, meeting rooms, and collaboration areas."
If you want people to return to the office in the new world of work, you've got to give them a reason to and create a space where they want to be
"If you want people to return to the office in the new world of work, you've got to give them a reason to and create a space where they want to be" continued Clark. "And for those not in the office the communication experience needs to be as seamless as if you are."
Over a period of 6 months, our new home came to life. Ricoh's own technology team worked alongside Platform Consulting to evaluate the data from the previous building and feedback from the staff, and combine these with modern working and workplace practices to create a 'Destination Workplace'.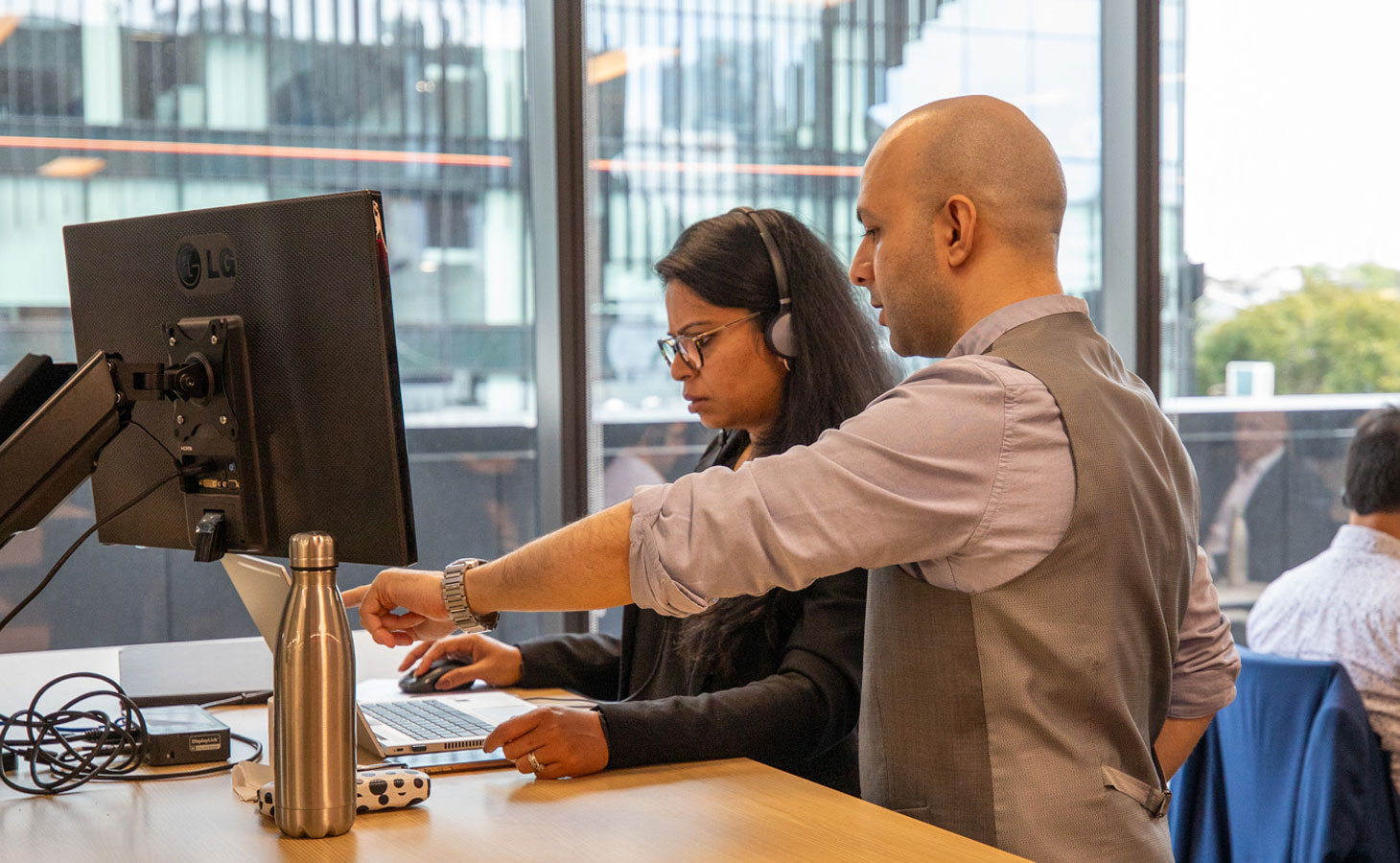 The Technology to Deliver Change
The new building boasts a host of cutting-edge technology and features designed to facilitate hybrid work.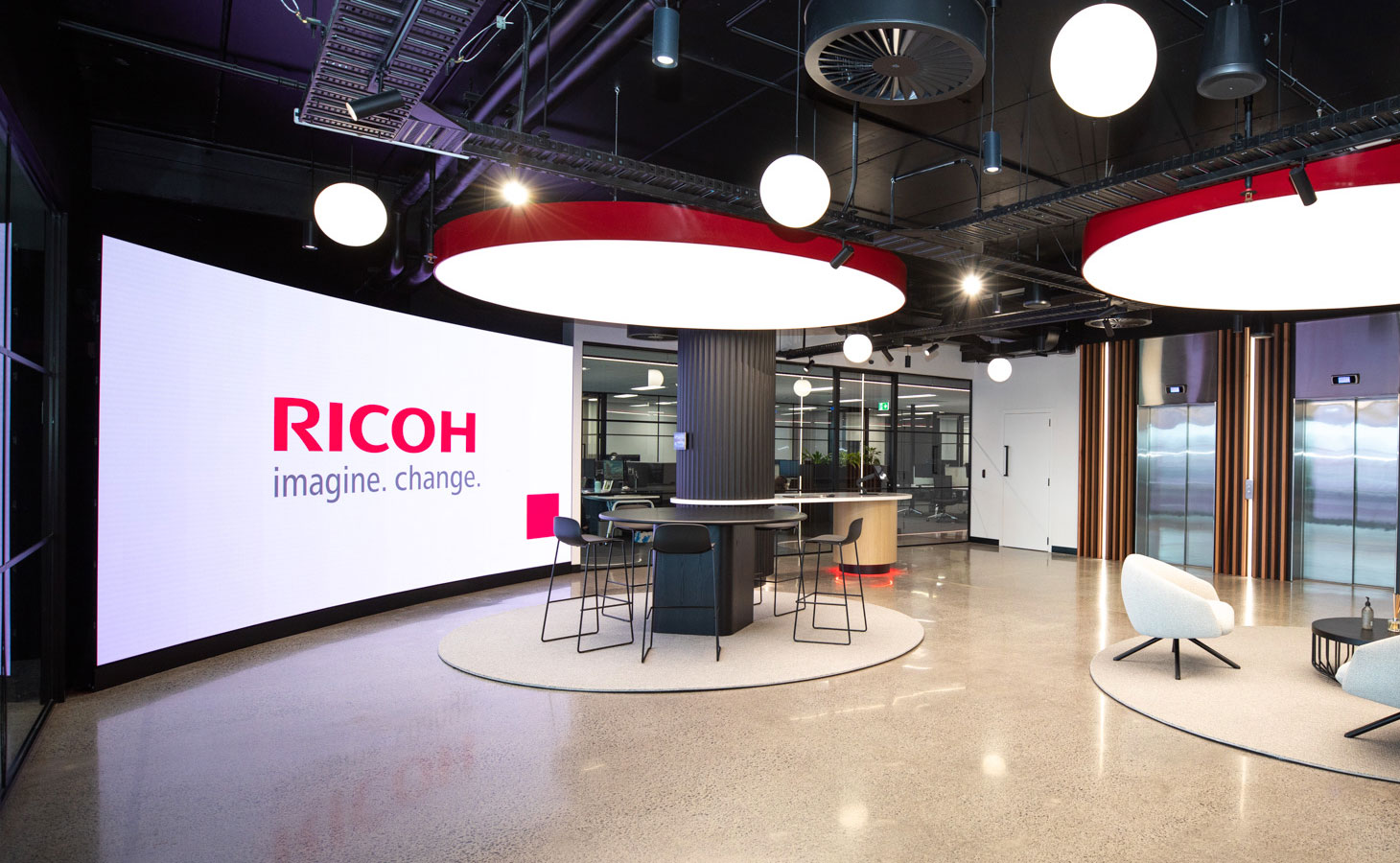 Town Hall Space and Welcome Video Wall
On walking into the building, you are greeted by the first curved video wall of its kind in NZ. The 4.8m x 2.4m screen is not only a digital display wall that we use for welcome messaging but is also a Microsoft Teams Rooms configured space with cameras and microphones configured to allow the space to be used for town hall meetings with our offices all around the country (and anyone else) to be able to join and be part of the experience.
Workspace Management
Our Ricoh Spaces platform is the engine that drives the hybrid working experience for our employees. From a mobile app, web browser or kiosk they can book their desk, car park and meeting spaces for the day or week to meet their needs. The interactive building mapping allows them to see who's booked where so they can ensure they can book a space in proximity to the people they need to collaborate with that day.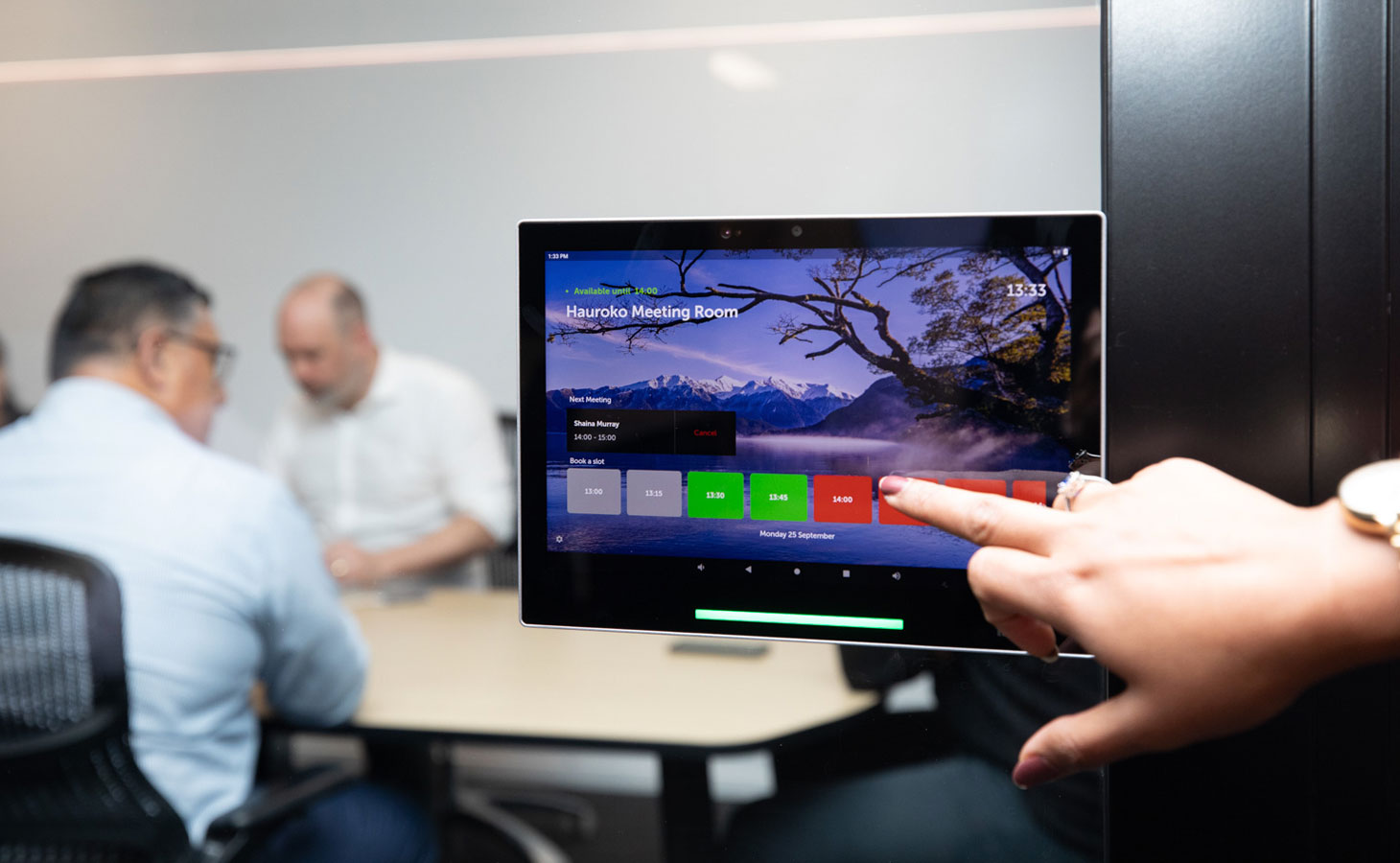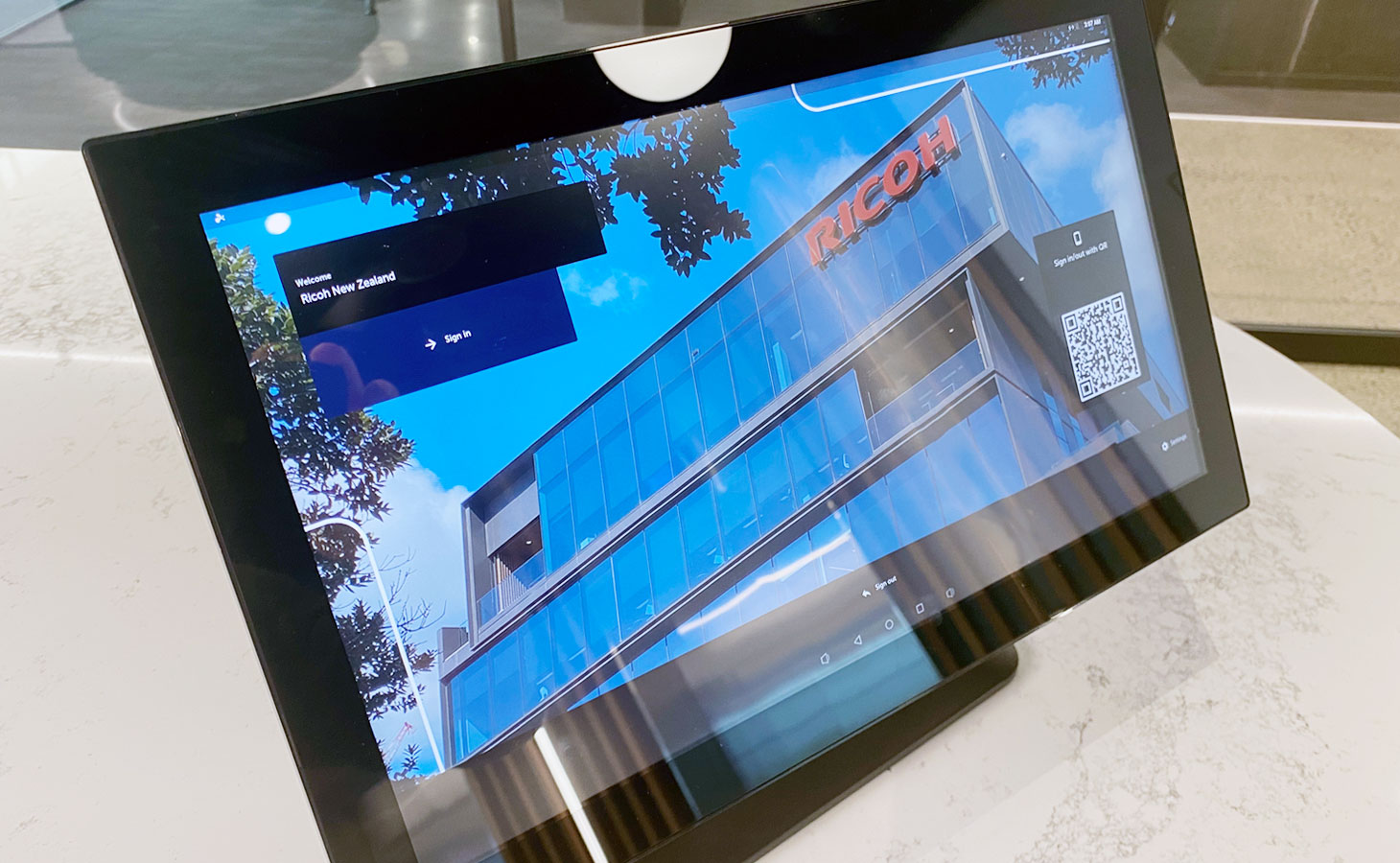 Visitor Management
Ricoh Spaces also provides visitor management. Guests can sign in at our kiosk which automatically notifies the person they're visiting. It also provides health and safety information acknowledgement for the visitor to ensure they have a safe visit.
Microsoft Teams Rooms
Every meeting room is configured with one-touch Microsoft Teams Rooms panels from Poly to give a seamless experience across rooms and fast start to any meeting. The rooms are configured in three types, small, medium, and large with suitable technology specified to deal with the audio-visual requirements for each space.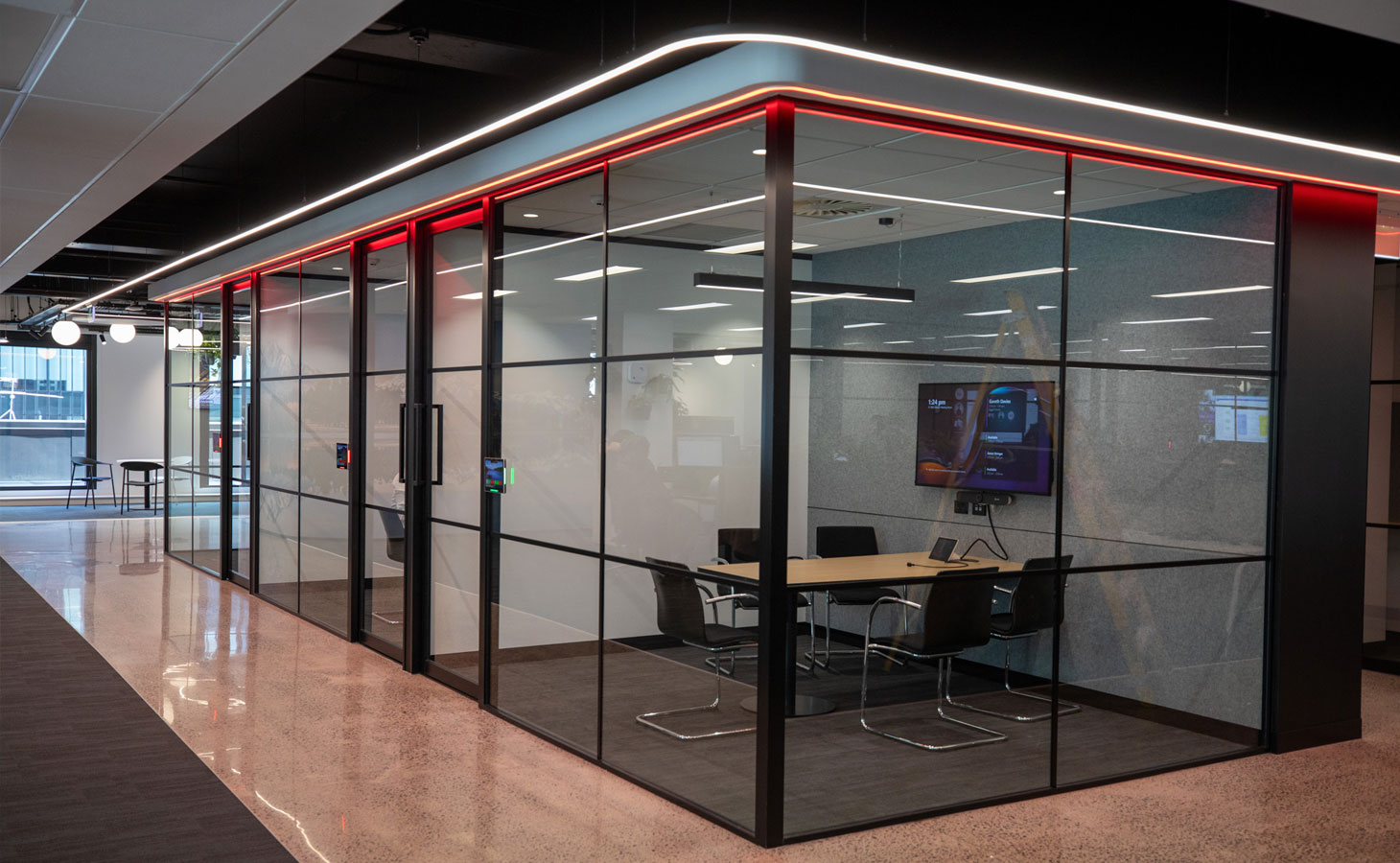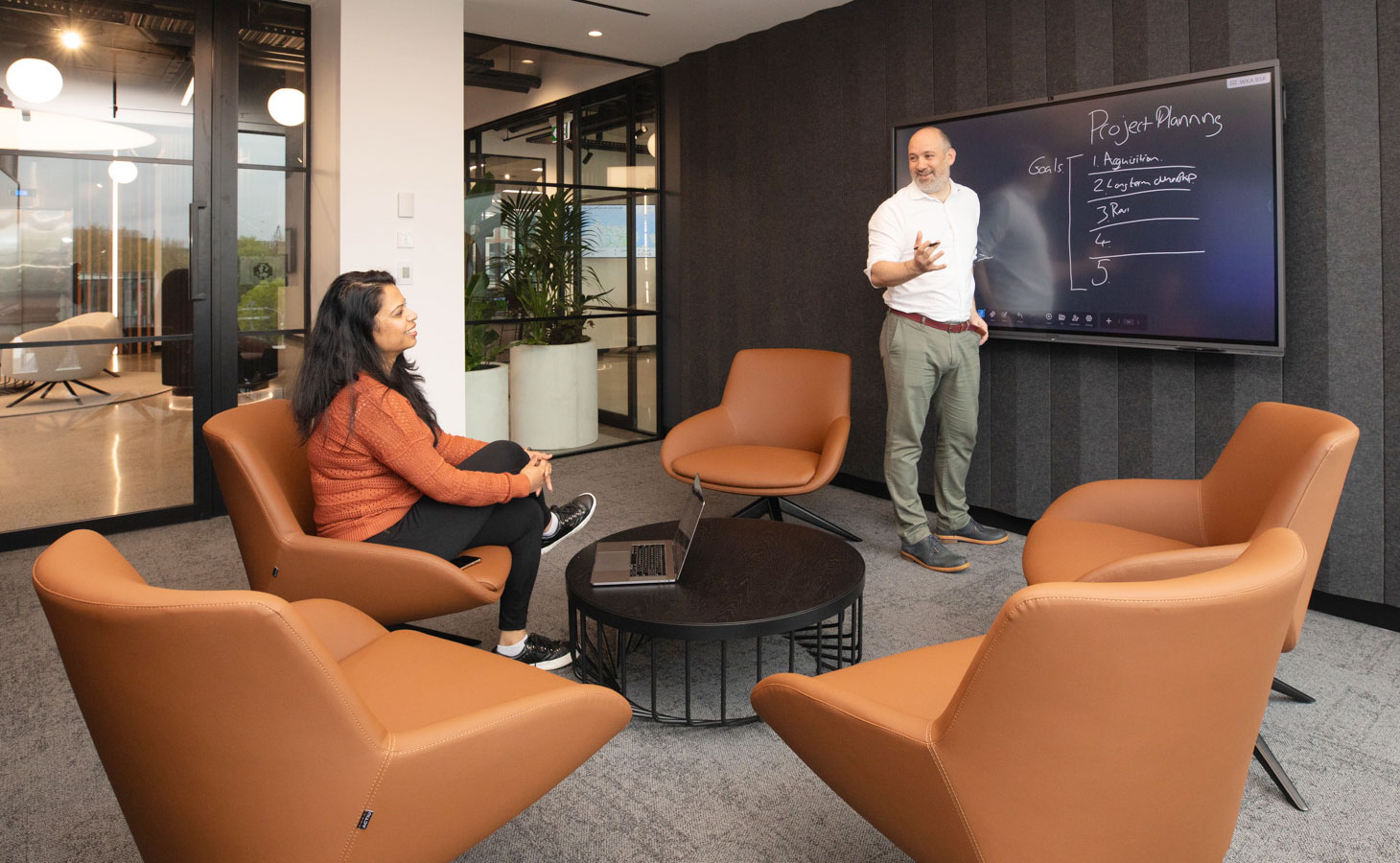 Collaboration Spaces
Providing the right spaces for people to work is key to a successful workplace. Our Collaboration Spaces are fitted with our Interactive Collaboration Hubs in a less formal meeting setting to allow ideas to flow.
Internal Digital Signage
Across the floor of the building, we have Digital Display Signage to deliver useful information to our teams. All screens are controlled from a central CMS to be able to schedule the right content for the right time to the right screen. This includes dashboards for the Sales and service desk areas, updates to company policy and important news, welcome screens for the main reception, and hygiene and safety messaging in key areas.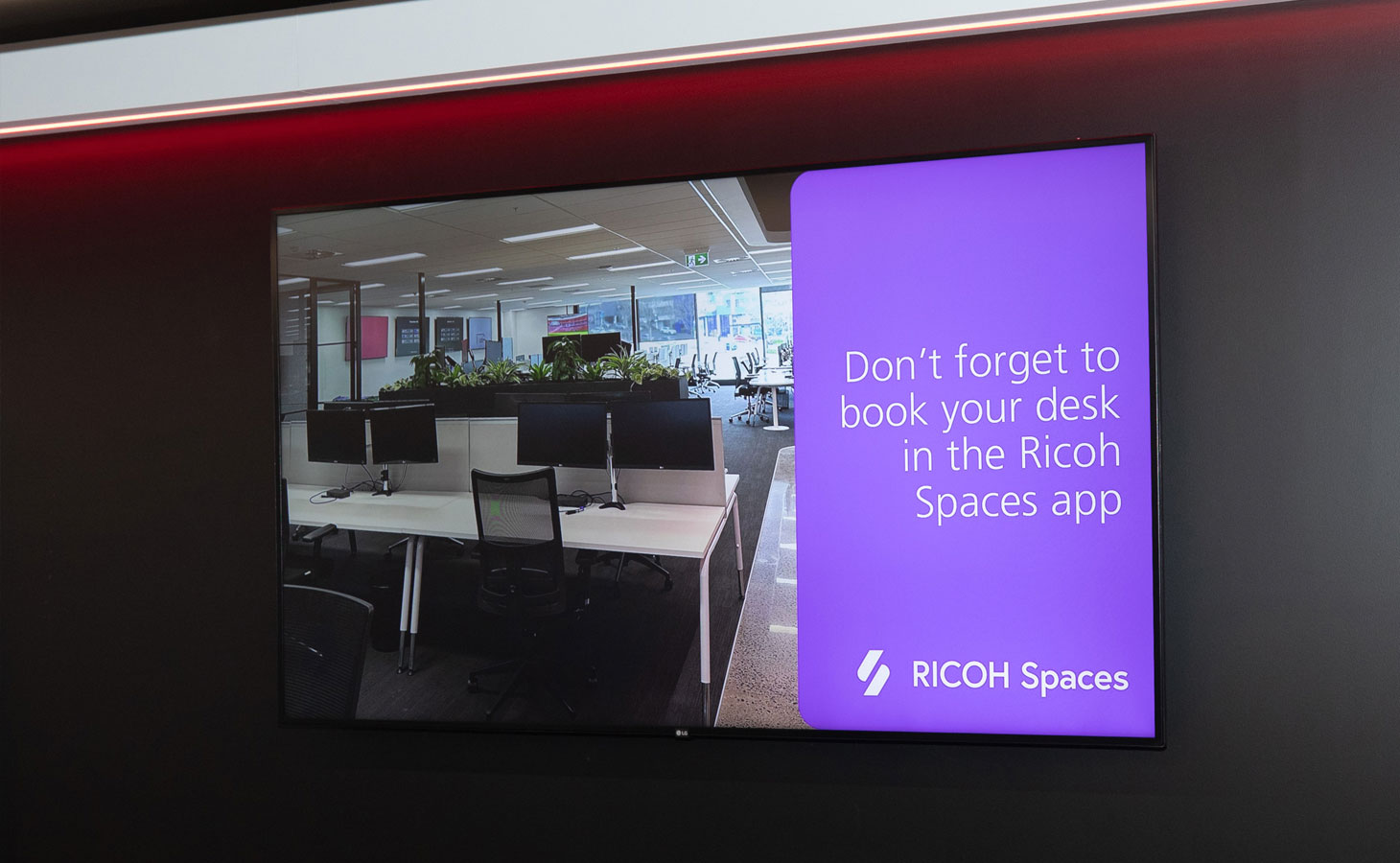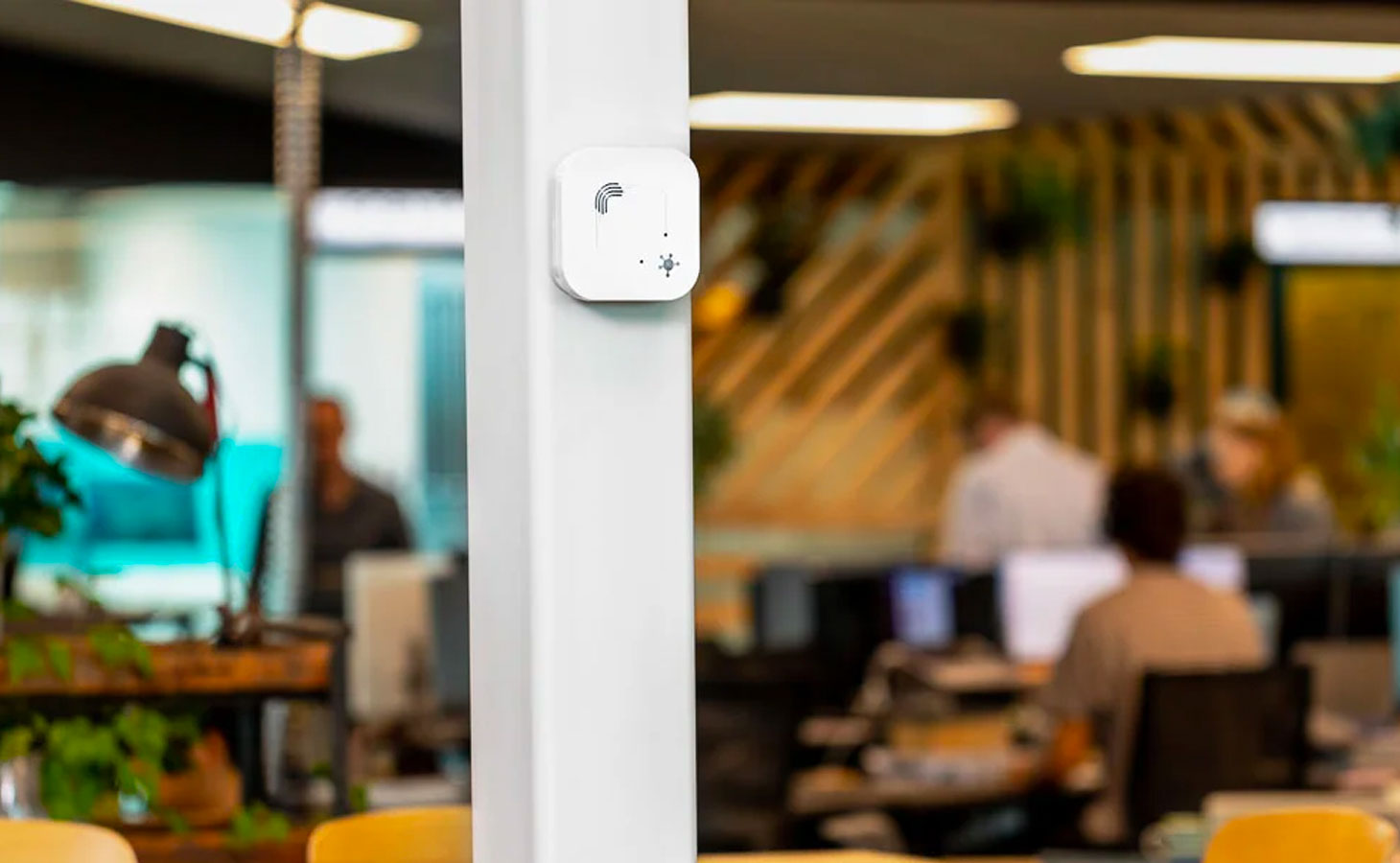 Building Health Monitoring
An integral part of the new building's design is an advanced building health monitoring system. Sensors throughout the facility continuously monitor air quality to ensure optimal comfort and safety for employees. Real-time data is used to make adjustments and maintain a healthy and comfortable workspace.
Investing in the Future
We're incredibly proud of what we've achieved in this space. Finishes Mike Pollok. "But this isn't just a building for today, it's built with the ability to adapt and change for the needs of tomorrow. We've focused on adaptable cloud software services to create the base and layered the experience level, or physical technology on top of that. We're already taking insights from the platforms and adapting our spaces to be better".
Book a Tour of the New Office!
We'd love to demonstrate how effective hybrid working can be with the right tools in place. If you would like to see how we've implemented this technology get in touch and we'll arrange a time for a tour of the building.
Recommended resources for you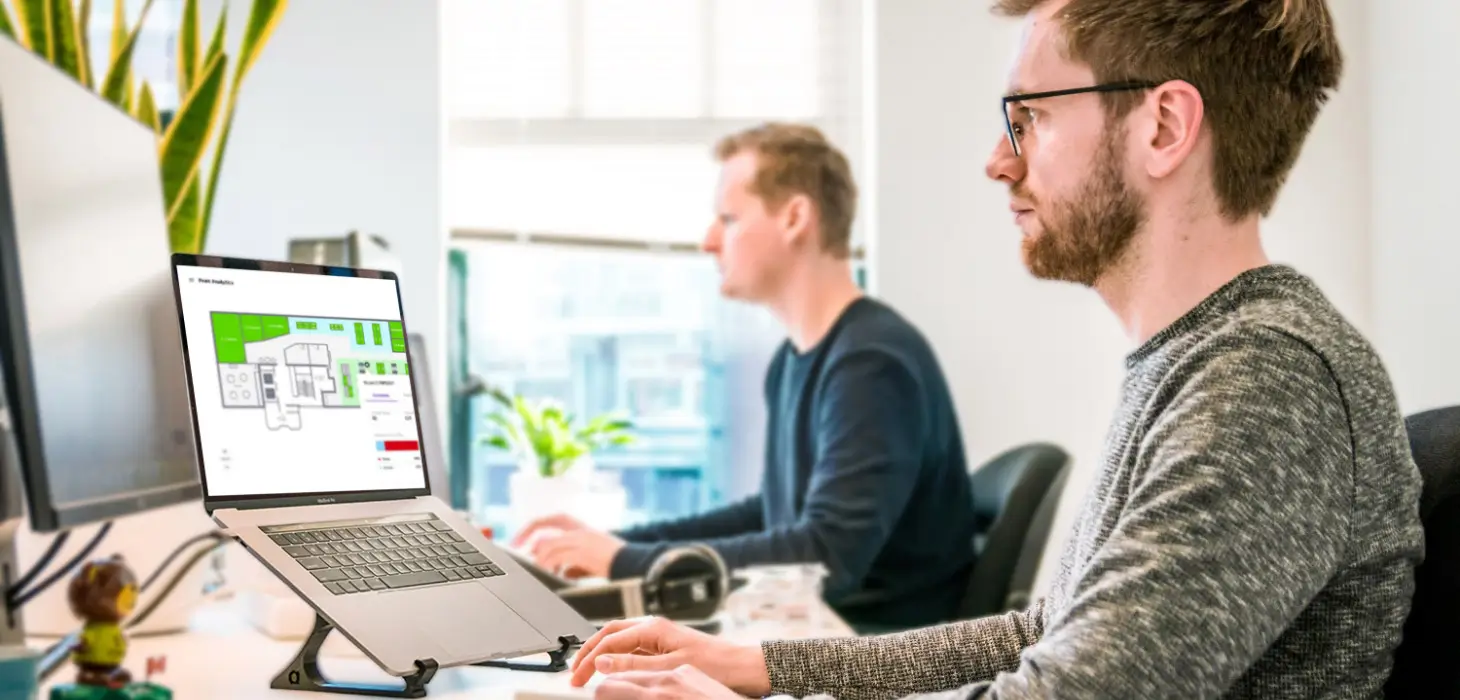 Article
Creating a Seamless Digital Workplace Experience
Looking for ways to improve collaboration and efficiency in your hybrid workplace? Learn how this workspace management tool can help you build a connected and seamless digital workplace experience.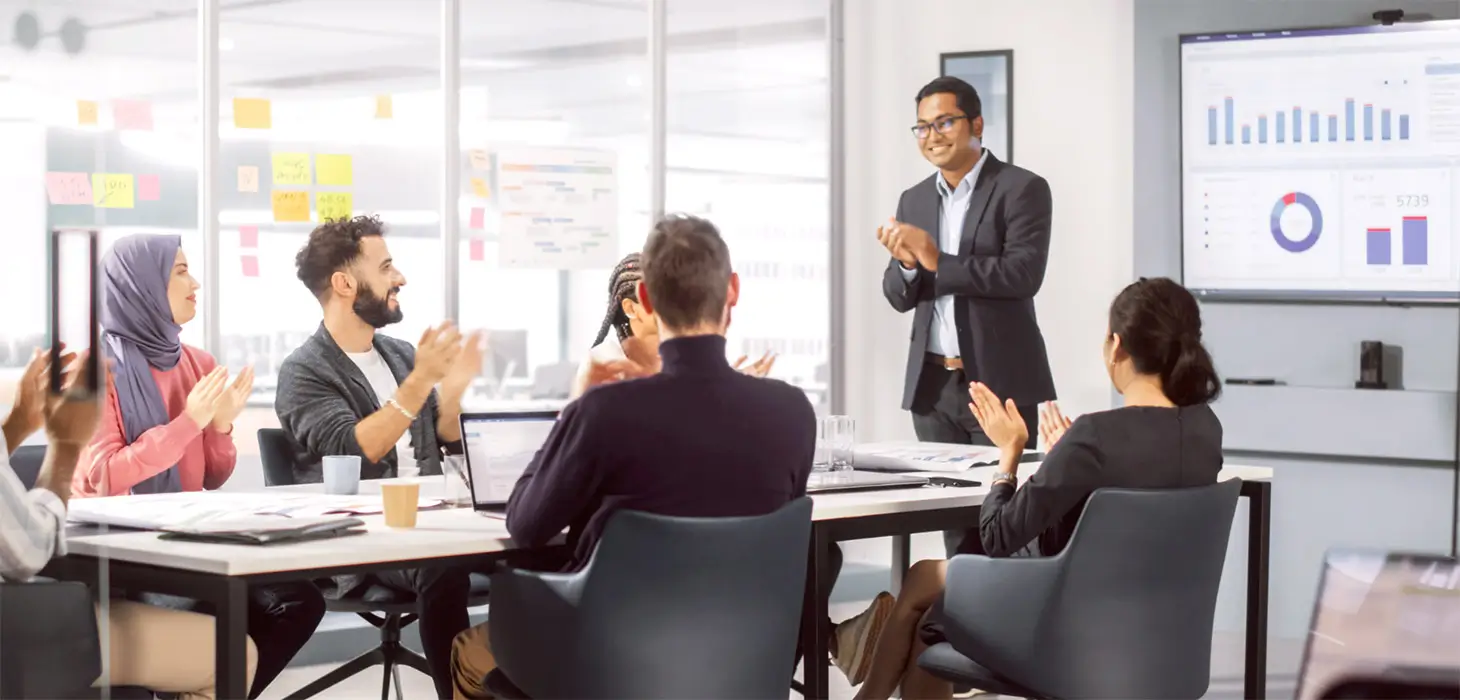 Article
Top 5 Emerging Hybrid Workplace Trends
The modern workplace is evolving at a progressive rate.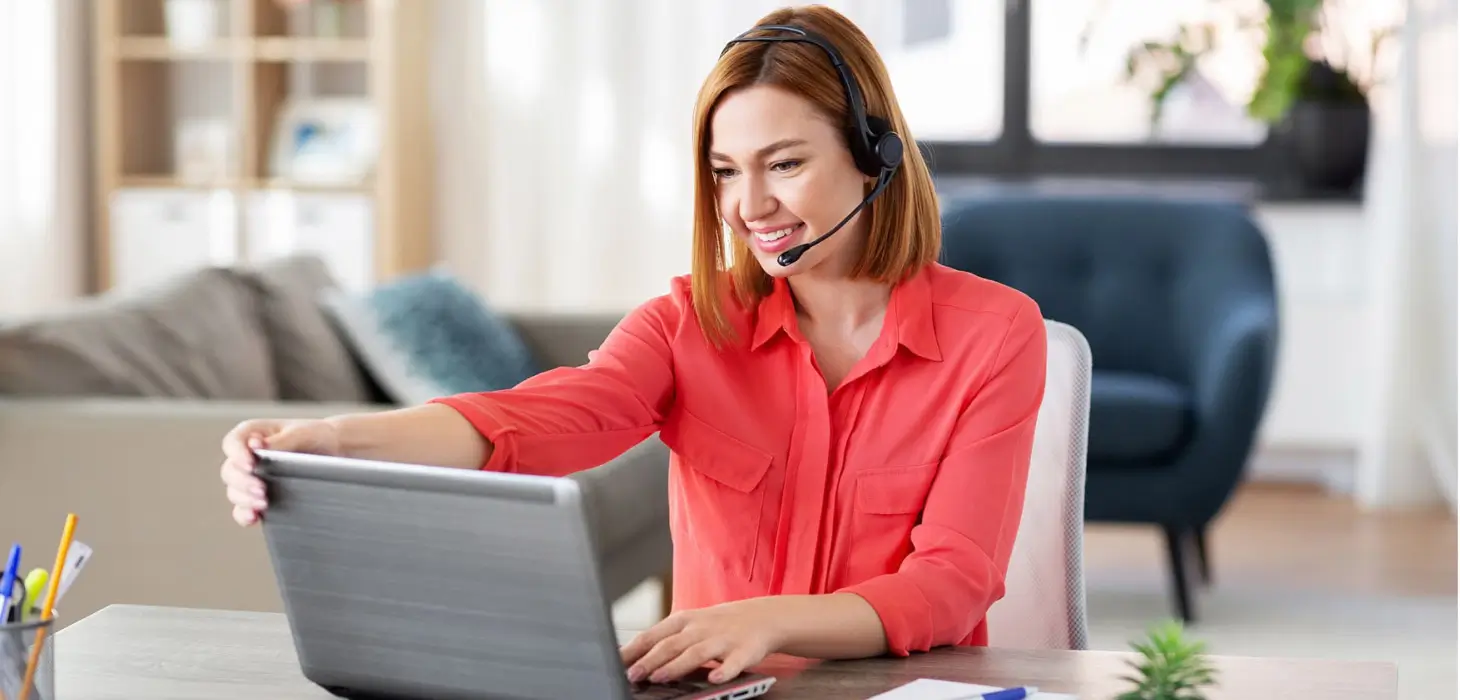 Article
How to Make the Hybrid Model Work for Your Business
When the pandemic took the world by storm, what began as a flexible work arrangement to accommodate business needs in times of crisis...