Enabling Hybrid Work with Chorus
Text right
Key Benefits
Saving operational costs
Enabling flexible working options
Enhancing team collaboration
Ricoh were quickly able to identify our needs, bring their expertise, do the design and get the desk booking solution implemented in a very short timeframe.
Chorus is New Zealand's largest telecommunications infrastructure company that build and manage an open-access internet network, rolling out ultra-fast broadband to users.
Chorus had identified an opportunity to create a new way of working for their staff post- covid. While moving offices they wanted to create a 'Destination workspace' that fostered collaboration and productivity, and they needed the right technology solution to deliver the vision.
Key Deliverables
Enhancing team collaboration
The desk booking solution helps foster collaboration, allowing users to use an app, website or kiosk to select their workspace based on their projects rather than confining them to a specific, fixed location.
Data driven decisions
The platform provides real-time and historic data on occupancy and usage of the workspace to support future decisions on office layout, the types of spaces required, and the real estate needed.
Saving operational costs
The desk booking solution supported the move to an office with fewer desks than staff based on their occupancy numbers after the pandemic, helping to reduce overall real estate costs.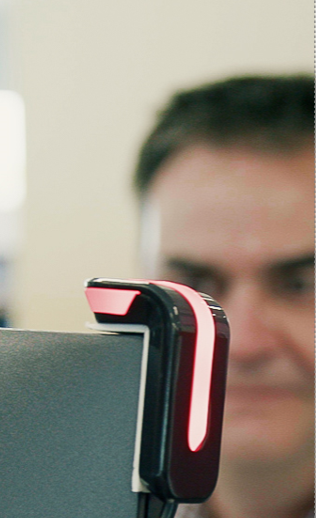 Chorus is New Zealand's largest telecommunications infrastructure company They maintain and build a network predominantly made up of local telephone exchanges, cabinets, and copper and fibre cables.
At the heart of their sustainability approach is Chorus' purpose, to make New Zealand better, by championing digital futures, supporting the wider environment and helping people thrive.
Chorus have been a Ricoh customer since 2018 and have recently undergone a complete overhaul of their office spaces to align with new hybrid workplace practices Ricoh supported them on this journey.
"We recognised with COVID that hybrid working had become more of a thing, and we wanted to acknowledge that and think about how do we make the office more of a destination as opposed to where we go to because we have to. We needed to think about COVID's impact on occupancy as we were moving to a new building and this was also an opportunity for us to learn where we were heading as an organisation, to allow people to cross pollinate a little more."
EZRA HENRY
SENIOR CUSTOMER EXPERIENCE DESIGNER, CHORUS
Challenges Faced
Chorus adopted a flexible working policy as a result of the pandemic, allowing people to choose whether they want to work remotely or from the office.
Long periods of remote work during the lockdown meant employees were not willing to let go of the flexibility that working from home offered. Enticing them to return to the office was challenging especially, making the commute worthwhile.
Chorus was also moving offices to a new location as a result of the reduced occupancy. This resulted in a shorter timeframe available for the implementation of the solution.
The solution supporting hybrid work needed to be flexible, adaptable and easy to use, accessible anytime and from anywhere.
How did we help?
Ricoh have been partnering with Chorus since 2018. With the changes brought about by the pandemic, the team at Chorus were on a hunt for a desk booking solution to support their transition to hybrid working and their new view of the office space as a place to collaborate. They were impressed with Ricoh's desk booking system demonstration and quickly implemented this in their working environment.
The desk booking solution put a focus on creating collaborative experiences. Not only can you book your desk, you can also see who else has booked, where, and how long for. This made planning collaborative work a much easier experience so you could book your space to be near to the people you needed to work with for that day, week or more.
The analytics obtained from the backend of the desk booking system helps the team track efficiency of the newly implemented system and space utilisation metrics to make informed and cost-effective business decisions. With this solution, Ricoh helped Chorus foster enhanced collaboration between teams and helped break the silos that come with traditional fixed desking.
"Chorus had a project in Auckland – they were looking to move from multiple buildings to one big site with an open plan and considerably less desks than they have staff up there which obviously kicked off a few challenges and they were really looking to us to try and help them identify how they could move forward and embrace hybrid work environment. We worked with Chorus quite closely to understand what their desired outcomes were, with their idea of a hybrid work environment and we were able to design, showcase and deliver what we think would work for them."
NIGEL KIRK
IHYBRID WORK SOLUTIONS SPECIALIST, RICOH
Outcomes
Chorus now have an office space that supports their new vision of the modern workplace. Not only do their staff have a smooth 'hot desking' experience but they also have the data to understand how their staff use the office and can plan future changes to the workspace to support them.
The solution has proved popular and has been well adopted and they plan to roll it out across further offices in the future.